News
March, 26th 2019
Tour dates overview
November 10. - 13. and December 15. - 18.:
Studio DER FEMDOM in ZURICH
November 28. and 29.
Avalon Residenz in BERLIN
(Red Ass Day Nov. 28. at 17:00)
Double Domme Sessions with LADY STELLA possible
December 01. - 07.:
Bizarrstudio Schwarz in HOF
Dec. 08. - 14. and Jan. 04. - 11.:
Studio Domicile Dark Emotion in
AUGSBURG
(Forced bi Special: November 09. at 19:00)
March, 26th 2019
SESSIONS IN ZURICH, BERLIN, HOF, AUGSBURG AND LONDON
APPOINTMENTS IN ZURICH
I´ll be available for excessive sessions at DER FEMDOM in Zurich NOVEMBER 10. - 13.
and offer German goodies (golden and brown), forced feminisation, forced bi, corporal discipline and much more

Next dates:
SPECIAL at "DER FEMDOM"
The legendary special "GANGBANG/BLOWBANG" will take place again spring 2020.
Next date will be announced soon.
Info and registration here:
APPOINTMENTS IN BERLIN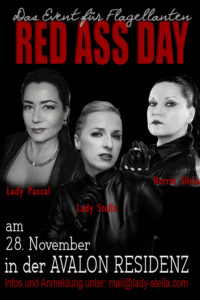 APPOINTMENTS IN HOF
I will be residing again at Bizarrstudio Schwarz
DECEMBER 01. - 07.
I offer spectacular sessions in dungeon and clinic.
Also for novices.
Imprisonment and Interrogation, Inescapable Bondage, Humiliation, Strict Corporal Discipline, Feminisation, Strap-on Training, Toilet Servitude and much more are my favorites of a many faceted session to celebrate.
Specials: German Goodies Natural Champagne & Caviar and TV-Maid/Whore Training
Call for appointment +49 176 29497435 (12-8 p. m.) or send email to sessions@dominasilvia.com
NEXT DATES in 2020:
JANUARY 26. - FEBRUARY 01.
NOVEMBER 29. - DECEMBER 05.
APPOINTMENTS IN AUGSBURG
Next dates: JANUARY 04. - 11.
SPECIALS:
FORCED BI - GROUPTRAINING DECEMBER 14. at 19:00
I´ll be hosting a special event for bisexual slaves, Masters/Mistresses, couples and TV/TS
HERRIN SILVIA WILL TRAIN HER SUBMISSIVES TO BECOME COCK SLUTS
Featuring TV Hot Sabine
Shower and locker available, soft drinks included, tribute for this appr. 90 minute session is 200 EUR for slaves/Masters/TV/TS and couples.
During the event I'll offer my TV slut for oral quickies for just 30€/each.
It´s also possible to arrange a smaller group session for forced bi at any other date - prepayment mandatory.
APPOINTMENTS IN LONDON
August, 20th 2014
January, 7th 2014
SESSION REPORTS IN MY BLOG
amongst others: Toilet Training (English version now online)
December, 19th 2013
PHONE- AND WEBCAM SESSIONS
I offer phone- and webcam sessions. Contact me for further instructions via email: info@dominasilvia.com
March, 1st 2013
RUBBER FEELINGS